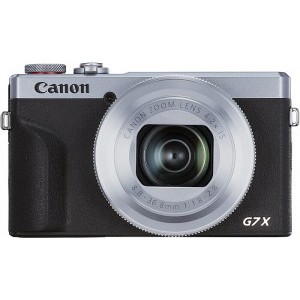 Thinking about taking your vlogging, or picture taking skills from a smartphone to another level? The compact PowerShot G7 X MARK III camera puts exciting capabilities from Live Streaming services* directly to YouTube, to vertical video shooting, right in the palm of your hands. Its 20. 1 Megapixel 1. 0-inch stacked CMOS Sensor combined with the powerful DIGIC 8 Processor helps to produce high image quality for amazing results at a fast operation. Equipped with 4K recording capability, and an external microphone terminal, The PowerShot G7 X Mark III camera delivers crisp, sharp videos with minimal sound distortion. Capture close-ups of your selfies, wide shots and everything in between with its impressive 4. 2x Optical Zoom and a lens aperture of f/1. 8 (wide) to f/2. 8(tele). Combining incredible zoom power with 4K video capabilities, the PowerShot G7 X Mark III camera makes it easy to create stunning videos and still images you will want to share with your friends, Social Media followers, and family.
4 Alternative Cameras to Canon G7 X Mark III
We've combed through thousands of cameras to compile this list of cameras which we think are good alternatives to the Canon G7 X Mark III. We've looked at Largesensorcompact cameras with a 1-inch sensor (most of the time) and also rated their overall performance for guidance. You can find even more similar camera suggestions if you click on a camera in the list – doing this will take you to another list we've compiled of cameras similar to that one.
We get commissions for purchases made using links on this page
Learn more