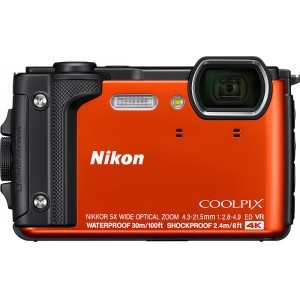 Show the world what you're made of. Some people are happy to take pictures from the comfort of the sidelines. That's nice. But if you want to be part of the action, you need a camera as tough as you. For those thrill seekers and action-hounds, meet the COOLPIX W300, a tough-as-nails camera designed for the extremes. Waterproof, freeze proof, shockproof and dustproof, it captures 4K Ultra HD video, 16 MP photos, time-lapse movies and more in the harshest conditions. Bring it surfing, skiing, SCUBA diving, biking, climbing…wherever your adventures lead. Use the built-in GPS, eCompass, altimeter, Wi-Fi and Bluetooth Low Energy to track and share every heart-pounding moment. Show the world what you're really made of.
11 Alternative Cameras to Nikon W300
We've combed through thousands of cameras to compile this list of cameras which we think are good alternatives to the Nikon W300. We've looked at Compact cameras with a 1/2.3-inch sensor (most of the time) and also rated their overall performance for guidance. You can find even more similar camera suggestions if you click on a camera in the list – doing this will take you to another list we've compiled of cameras similar to that one.
We get commissions for purchases made using links on this page
Learn more