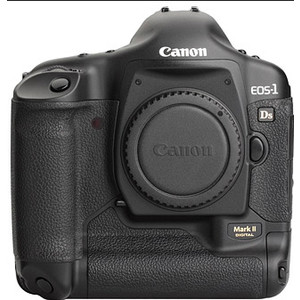 An update to the tremendously popular EOS-1Ds, the new EOS-1Ds Mark II is a must-have for those seeking to capture huge, beautiful images fast. With an all new, full-frame 16.7 megapixel CMOS image sensor, combined with Canon's blazing DIGIC II Image Processor, the EOS-1Ds Mark II captures up to 32 consecutive shots at speeds up to four frames per second and has dramatically decreased startup and card-writing times in comparison to the EOS-1Ds. These improvements are complemented by Canon's renowned build quality for reliability in even the most rugged conditions. Compatibility with over 50 EF Lenses, in addition to the entire line of EOS accessories, including the new Wireless File Transmitter WFT-E1 accessory, easily makes the EOS-1Ds Mark II the most remarkable combination of resolution and speed in the history of digital SLRs.
9 Alternative Cameras to Canon 1Ds Mark II
We've combed through thousands of cameras to compile this list of cameras which we think are good alternatives to the Canon 1Ds Mark II. We've looked at DSLR cameras with a Full frame sensor (most of the time) and also rated their overall performance for guidance. You can find even more similar camera suggestions if you click on a camera in the list – doing this will take you to another list we've compiled of cameras similar to that one.
We get commissions for purchases made using links on this page
Learn more