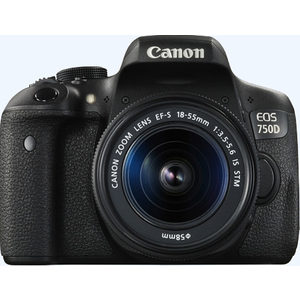 For gorgeous, high-quality photos and videos that are easy to share, look to the Canon EOS Rebel T6i camera. The EOS Rebel T6i does more, easier, making capturing photos and shooting videos a breeze. Its high-resolution 24.2 Megapixel CMOS (APS-C) sensor means finely detailed, crisp and natural-looking photographs. An updated light-metering system means well-exposed images. HD videos are effortless with the EOS Rebel T6i's advanced AF that provides speedy and precise focus on subjects. Canon's advanced EOS Scene Analysis system automatically adjusts the camera's settings to produce the best results whether shooting friends, landscapes, sports scenes and in tricky light situations. A first ever for the EOS Rebel line, built-in Wi-Fi and NFC are now available!
23 Alternative Cameras to Canon 750D
We've combed through thousands of cameras to compile this list of cameras which we think are good alternatives to the Canon 750D. We've looked at DSLR cameras with a APS-C sensor (most of the time) and also rated their overall performance for guidance. You can find even more similar camera suggestions if you click on a camera in the list – doing this will take you to another list we've compiled of cameras similar to that one.
We get commissions for purchases made using links on this page
Learn more