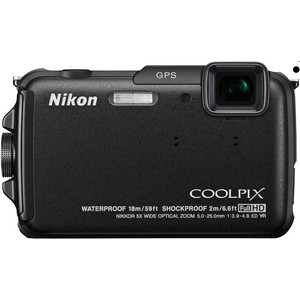 The rush lasts a moment. The memory lasts a lifetime. If you spend more time hanging from belay lines than waiting in club lines, if a snowy forecast makes you grin ear to ear, if you measure your weekends by bumps and bruises, meet your next favorite piece of gear: the waterproof, freezeproof and shockproof COOLPIX AW110. Built as rugged as you, the COOLPIX AW110 captures your extreme moments as mind-blowing photos, Full HD 1080p videos and ultra-smooth slow motion sequences. With built-in Wi-Fi® for instant sharing, a full-featured GPS with mapping, Points of Interest and Electronic Compass plus all the imaging power of a Nikon, you can finally bring home the rush of going big.
12 Alternative Cameras to Nikon AW110
We've combed through thousands of cameras to compile this list of cameras which we think are good alternatives to the Nikon AW110. We've looked at Compact cameras with a 1/2.3-inch sensor (most of the time) and also rated their overall performance for guidance. You can find even more similar camera suggestions if you click on a camera in the list – doing this will take you to another list we've compiled of cameras similar to that one.
We get commissions for purchases made using links on this page
Learn more