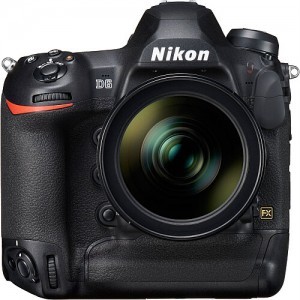 Captivating imaging power, astonishing speed, dazzling low light performance and extreme durability—all paired with the most powerful AF in Nikon's history. Tough enough for the most demanding professional environments, both in the field and in the studio. Sports and action shots with exceptional focus where it matters. Fast and reliable 14fps continuous shooting. Stunningly clean image quality that shines in any light. Remoteless long exposures. Crucial workflow enhancements for the modern age. The Nikon D6 will redefine the way you work.
11 Alternative Cameras to Nikon D6
We've combed through thousands of cameras to compile this list of cameras which we think are good alternatives to the Nikon D6. We've looked at DSLR cameras with a Full frame sensor (most of the time) and also rated their overall performance for guidance. You can find even more similar camera suggestions if you click on a camera in the list – doing this will take you to another list we've compiled of cameras similar to that one.
We get commissions for purchases made using links on this page
Learn more