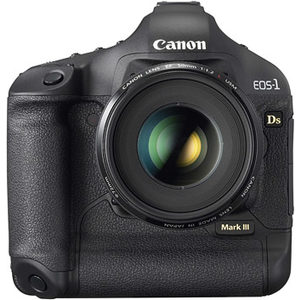 The Canon EOS-1Ds Mark III is an engineering tour de force which, true to the EOS-1 legacy, redefines the state of the art in no uncertain terms. An entirely new 21.1-megapixel full-frame Canon CMOS sensor delivers astounding image quality and creates new photographic possibilities. Dual "DIGIC III" Image Processors work in tandem to speed up data handling and camera operation, while further refining imaging performance. Tough, high-durability body and shutter designs, combined with the unique EOS Integrated Cleaning System, set new standards for professional dependability. Cutting-edge features-such as a large 3.0-inch LCD monitor with Live View Function, and a fast, precise 45-point AF system-make the EOS-1Ds Mark III powerful and versatile. And, of course, the EOS-1Ds Mark III is part of the unparalleled EOS System, which, with more than 50 EF lenses, 15 interchangeable focusing screens, and extensive wireless remote control and lighting accessories, is the most advanced and powerful digital photography system in the world.
9 Alternative Cameras to Canon 1Ds Mark III
We've combed through thousands of cameras to compile this list of cameras which we think are good alternatives to the Canon 1Ds Mark III. We've looked at DSLR cameras with a Full frame sensor (most of the time) and also rated their overall performance for guidance. You can find even more similar camera suggestions if you click on a camera in the list – doing this will take you to another list we've compiled of cameras similar to that one.
We get commissions for purchases made using links on this page
Learn more